The Emirates ID is an identity card issued by the Federal Authority of Identity and Citizenship (ICA) in the UAE. They also provide the residents and citizens to replace their Emirates IDs in case if they are damaged, lost, or stolen. Your emirates id lost? Then you are in the right place. Here you will find all the details and procedures to renew your emirates id lost.
Process For A Emirates Id Lost 2023
However, if you are a UAE resident or national. You might know that your Emirates ID is the most important document in UAE. The Emirates ID is your identity as a resident. And there is a need for documentation you need to carry here. However, this documentation can be your driving license, renting a property, getting utility connections, and so on.
Moreover, an Emirates ID is necessary for every resident, citizen and this emirates id should be with you all the time. It proves and confirms your identity. Or with this, you can be able to use all the services.
Emirates ID Privileges And Benefits In The UAE:
However, Emirates ID is issued by the Emirates Identification Authority (EIDA), the Emirates ID has all your personal information, including photo and biometric data (fingerprints). Moreover, this data can be accessed with the Pin issued to all cardholders of emirates id.
To consider it important, it is necessary to keep the card secured at all times. But what happens if you lose your Emirates ID? Or emirates id lost? You need to keep reading the article to get the information, documentation required, fee and procedure.
Document Required For Emirates Id Lost:
Passport
Family book(UAE Nationals)
Photocopy of lost Emirates ID card
UAE Visa(Expats)
Birth Certificate(For kids below 15 years)
Documents Required According To Age, GCC, And UAE National:
However, if you are a UAE National or a GCC Citizen, you will need the following documents to access the service:
There is a need for a completed application form (the application form is available online and at any accredited Typing Center)
It requires an original valid passport
However, also requires an original valid family book
There is a need for proof of residencies such as an original valid employment certificate, real estate lease or ownership contract, commercial license, school registration certificate, certificate of dependency, valid marriage contract, or an employment card
Moreover, the IDN Certificate was issued and stamped by the registration Center.
Document Required For Children Under 15 Years Old:
It requires a visit to the Registration Center is not needed, a colored passport-size (4.5 x 3.5 cm) photo with a white background can be submitted instead
Moreover, biometric data is not needed
However, ID cards for newborns require the submission of a photocopy of the birth certificate in addition to the aforementioned document requirements. Moreover, the parent must also present their valid ID card.
Document required if you are above the age of 70 years old. That person will receive social welfare or have additional needs:
However, you are exempt from the additional fees of services related to the ID, but not the delay charges.
Moreover, customers with special needs are exempted from the additional services fees as well as the ID card charges but not the delay charges.
However, customers with additional needs are required to submit a copy of proof of disability certified by their physicians
Lost Emirates ID Outside UAE:
However, if you've lost your Emirates ID outside UAE. Then you should immediately visit the UAE Embassy in the region where you live. And file your complaint regarding your emirates id lost.
Moreover, if you have once been informed at the UAE embassy then you can apply for a new card online. As per the procedure mentioned above or visit the official typing centers when you are back in UAE.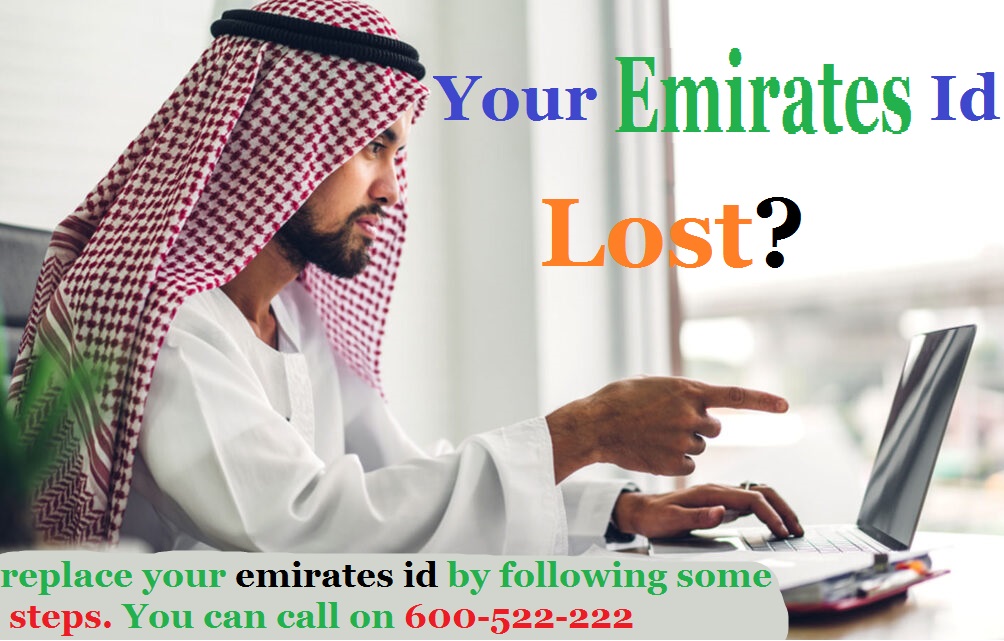 Like all the identity cards an Emirates ID consists of a chip that stores all the information regarding the emirates id holder. Moreover, it has the biometrics of the owner of the emirates id card along with the financial details and many more. So, losing your emirates id is must be taken a bit seriously.
Service Duration:
If all the requirements meet the services will be completed and the card ready as soon as possible for collecting within ten working days of your application
Moreover, additional information requires

In addition

, in the event that your emirates id lost or stolen card has been recovered, then an Emirates ID Customer Service Representative will contact you via telephone to make sure that your Id is recovered.
Benefits Of This Service:
It enables you to keep your identity data up to date and accurate, so it can be useful
It makes a more secure identity
However, more accessible identity
Emirates ID Replacement Fee:
When your emirates id lost you need to complain. When a complaint is registered at the police station regarding the lost Emirates ID, then AED 70 will charge. Apart from this, there is some fee fixed via EIDA (Emirates Identity Authority) on Emirates ID replacement.
Here is the emirates id replacement fee structure:
AED 300

will charge on Emirates ID replacement if the card is lost or stolen.
However,

AED 70

will charge if the form is submitted through the typing centers.

AED 40

will charge if the form is submitted online.

AED 150

will charge for express delivery of the Emirates ID which is a maximum of 24 hrs
What To Do If Your Emirates Id Stolen, Broken, Damaged, Or Lost:
Report to the relevant authority:
Firstly, the first action that you need to take if you lose your Emirates ID is to report the incident at the nearest ICA Customer Happiness Centre or a police station. Moreover, carry the entire valid identification document for identity confirmation which we have mentioned above.
However, after confirmation, the center will deactivate the card immediately. In addition, you can also ask for the issuance of a copy of your lost Emirates ID card that will help you keep using the services. If you need to replace a damaged card, you will also need to bring your damaged Emirates ID.
We have provided the list here of what you need to bring as proof of identity. In order to apply for a replacement for your lost Emirates ID:
UAE nationals need to bring:

 A family book with your valid original passport.
GCC nationals can bring A Valid employment certificate or card, school registration certificate, valid marriage contract, commercial license, ownership contract, real estate lease, or certificate of dependency.
Expatriates need to bring: A valid passport with a stamped valid residency permit.
How To Apply For An Emirates Id Card Replacement:
Once you have reported the event in the police office or ICA office as a lost emirates id police report. You need to apply for replacing your lost Emirates ID immediately. You need to submit the application along with the aforementioned documents.
Mentioned above to complete the application process for a lost emirates id card replacement. However, applicants can access the application form for a replacement ID card request at ICA Customer Happiness Centres.
As well as on the ICA's website for online applications. Moreover, residents can also use the ICA UAE app to acquire an application form. And proceed with their request about the replacement of emirates id. You can do a report as I lost my emirates id. Or emirates id lost and found.
Instructions for children under 15 years of age:
However, the residents who are below 15 years of age need to submit a passport-sized photo in color with a white background. If their emirates id lost. Furthermore, parents of newborns will need to submit a copy of the birth certificate along with their parents' valid ID. And other required documents as per requirement.
Pay the fees
Here are some details about the charges for a replacement Emirates ID:
Fee for replacement: AED 300 for a replacement Emirates ID card required fee.
Application fee:  AED 70 per application.
Those people who are applying via e-Form from the ICA website get a reduction. And pay only AED 40 instead of AED 70 for the application form. The fees must be submitted along with the application form regarding the replacement of emirates id.
Collect Your New Card
After filling and submitting the application for a replacement ID card. The ICA will send you an SMS regarding the application submission. And expected delivery date. It will help to provide you with a specific date to take the emirates id. It takes around two working days for a replacement Emirates ID to issue.
Or it can take ten working days as well. Residents can also utilize the express service if they need their Emirates IDs replaced urgently to perform all the services in UAE. However, You can collect your card from the Emirates post after receiving the SMS notification. Your id has been recovered that make sure that your id is ready to collect.
FAQs:
How To Contact The ICA Call Center For Any Query Regarding Id Card Replacement In Case Of Emirates Id Lost, Damaged, Or Stolen?
You can contact the given number of the ICA at 600-522-222 regarding any query about ID card replacement such as emirates id lost, damaged, or stolen.
What Are The Charges For Express Id Replacement Services?
The residents in the UAE want the replacement of ID cards in case of emirates id lost, damaged, or stolen. They have to pay AED 150 additionally. You can check the more fees regarding replacement from the above article.
What If Someone Submits My Stolen Id Card At One Of The Registration Centers?
If you are submitting the application for the replacement of your emirates id card. Then an Emirates ID customer service representative will be in touch with you. And will let you know when your emirates will recover.
Why is Emirates Id So Important And Should Not Emirates Id Lost?
Emirates id is the proof of your identity for all the residents or citizens of the UAE. Moreover, there are a lot of uses of emirates id it can change your lifestyle. So, keep using the services in UAE you try not to get emirates id lost.
How To Update My Data On My Emirates Id Card?
Emirates id owners can visit the nearest Federal Authority for identity and Citizenship branches. So that they can information on the emirates id. You can easily change your information on your emirates id card.
How To Renew My Emirates Id?
You can renew your emirates id before 30 days of expiry. However, you will get a message from the ICA office to renew your id. So that you can use all the services in the UAE.
You can renew your id by visiting the Federal Authority for Identity Citizenship (FAIC) in UAE. Or you can apply online through the ICA website. Moreover, you can check our article on emirates id renewal.
Conclusion:
In conclusion, we will say that the emirates id is very important for any residence or citizen in the UAE. As it is the proof of your identity in the UAE. In case, if your emirates id lost, damaged, or stolen.
Then you need to report to the office or police station. And then immediately apply for the recovery of the emirates id. You don't get lazy in this case apply immediately and get a new id in two to ten working days.